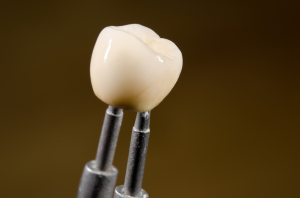 Did you ever think you could go to the dentist and walk away with a dental crown the same day? There was a time it would take weeks and several visits, but no more. Today's dental technology makes things easier, faster, and less uncomfortable for patients. Your Sheridan, Wyoming dentists offer CEREC one-visit crowns.  Durable and long-lasting, yet a fast and easy option for restoring damaged teeth, read on to find out more about one visit crowns.
Traditional Crowns
The traditional way of crowning a tooth involves more than one dental visit, and a fabrication time of two or more weeks. The first step to providing a traditional crown is preparing the tooth by removing decay and shaping the remaining tooth structure with hand-held dental tools. Next, an impression is taken. To take an impression of the tooth the patient bites down into a tray filled with dental putty or paste. This step can be messy and uncomfortable. The impression is then sent to the lab where it takes approximately two weeks to fabricate and deliver the crown. A temporary crown is placed in the meantime.
CEREC Crowns
CEREC stands for Chairside Economical Restoration of Esthetic Ceramics. CEREC machines make it possible to fabricate a long-lasting, esthetic, and durable crown restoration in one visit. The use of a CEREC machine eliminates weeks of waiting on the lab, the need for uncomfortable and messy impressions, and the need for temporary crowns.  With CEREC technology the impression of the damaged tooth is created as an optical 3D image with the wave of a wand. The crown is then precisely designed using special software. This digital image is sent to the milling machine right in the same office, simply by clicking a button.  The milling unit fabricates your crown while you wait eliminating the cost, time, and inconvenience of another appointment. It's clean, painless, fast, and easy.
ABOUT YOUR SHERIDAN DENTISTS:
Questions about our Sheridan, WY dentist office? To learn more about our services, or to schedule an appointment with one of our doctors, contact us at (307) 672-7567. We welcome residents of Sheridan, Gillette, Billings, Miles City, and the neighboring communities.