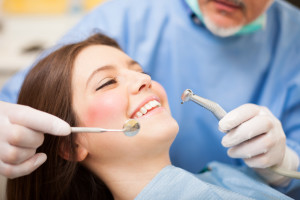 Many people get nervous before a dental appointment for a multitude of reasons. This can be especially true if you are going to a new dentist for the first time. To compound your anxieties, if you've been putting off dental checkups for a long time, or you suspect a serious issue, you may be tempted to ignore your dental needs. Preparation can be a key to comfort, so here are a few tips to prepare for your next dental visit.
Dental Exam Preparation Tips
Transfer records: If you're a new patient, it makes things easier if you have your old dentist send your records to our office. This will help us learn about your dental history.
Arrive early: We recommend getting to your appointment ten to fifteen minutes early. This will give you enough time to check in, complete forms, and relax. If you feel rushed and stressed, your appointment may be more uncomfortable.
Discuss information: If you're a new patient, be prepared to record your medical history, insurance information, and payment preferences. For returning patients, let us know if you have any changes to your health, medications, insurance, or other information. You should also communicate with our staff about any problems you are having.
Requests: Let us know ahead of time if you have dental anxiety, arthritis, diabetes, a heart issue, or any other condition that may make you uncomfortable in the dental chair. We can provide necessary accommodations.
Schedule: Make sure you schedule your appointment on a day and time that is convenient for you. Some procedures last longer than others, and sometimes our schedules may be running behind. At the end of your visit, you can schedule your next appointment in six months, or we can send you a reminder when it's time for your next visit.
Relax Before: Get plenty of sleep the night before your appointment and perhaps meditate or go for a walk in the morning. This will help you relax and relieve your worries.
Visit your Sheridan Dentists
Dr. Coon wants to make your dental appointment as worry-free and comfortable as possible. If you have any questions about your appointment, or to schedule a visit, call Grinnell Street Dental in Sheridan, WY at 307-672-7567.