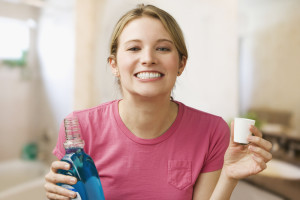 Many people view mouthwash as a personal choice or a now and then thing. Dental professionals tend to have varying opinions about whether or not mouthwash will actually improve dental health. The truth is, just as with any products in American, there are good mouthwashes and bad ones. How do you know which one is right for you?
Mouthwash for Killing Oral Germs
Thanks to compelling research data, many dentists are starting to feel convinced that mouthwash is beneficial to oral health. A mouthwash with fluoride is likely to reduce cavities and periodontal disease. As long as a mouthwash is germ killing, it can help reduce periodontal disease and tooth decay.
More Benefits of Mouthwash
It goes without saying that mouthwash can make your mouth feel fresher and your breath smell clean and minty. Certain mouthwashes can reduce the amount of dental plaque and bacteria in your mouth which helps improve breath long term as opposed to simply masking it. Although mouthwash is beneficial as a supplement to your oral hygiene routine, it cannot be relied upon as a replacement for flossing, brushing well, and visiting Dr. Coon every six months for a dental checkup. Mouthwash should as a final step in a daily routine can keep germs at bay, but be aware of the alcohol content in your mouthwash of choice. If you feel like mouthwash is drying your mouth out or negatively affecting your taste buds, switch to a different brand.
Visit your Sheridan Dentist
No two mouths are the same, so the right mouthwash and dental hygiene regiment for you may not be effective for someone else. Make an appointment at Grinnell Street Dental so that Dr. Coon can help you design a dental hygiene routine that keeps your mouth healthy and feeling great. To schedule an appointment at Dr. Coon's dental office in Sheridan, Wyoming, call (307) 672-7567.