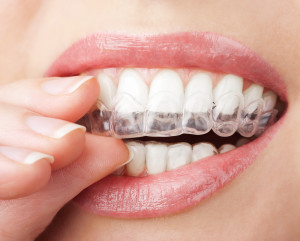 Even someone who you see as having perfect teeth may harbor personal issues with their smile. None of us is entirely without flaws. However, severely crooked teeth may require orthodontic treatment to avoid complications such as jaw issues or impossible dental hygiene. Some patients are fortunate enough to qualify for a type of innovative orthodontics which allow your efforts to remain a secret. Traditional bracket and wire metal braces are a thing of the past for some, thanks to Invisalign clear braces. Sheridan dentist, Dr. Coon can help straighten your smile without having to explain your tin grin.
How are Clear Braces Possible?
Traditional metal braces use brackets which are connected by wires to control the gradual movement of teeth. Some advances over the years include orthodontics comprised of white and tooth colored brackets and wires which blend in with the natural look of your teeth. They are less obvious, but still noticeable up close. Invisalign answers to concerns regarding awkward bracket-and-wire apparatuses by utilizing a series of clear acrylic alignment trays which fit snugly over your smile. Each successive aligner uses gentle force to shift your teeth into their desired positions so that you have beautiful alignment and symmetry when you grin.
Invisalign Advantages
Invisalign's transparent acrylic aligners are so hard to see, you can even leave them in for photos and special events. If you want to keep your straightening endeavors on the down-low, you can keep you're your treatment to yourself. However, you are allowed the luxury of temporarily removing Invisalign when you eat and brush your teeth. Having the ability to enjoy food without getting particles stuck in your braces is a huge pro of clear alignment orthodontics. Maintaining a normal brushing and flossing routine is also a terrific benefit for your overall dental health.
Clear Braces from Sheridan Dentist
If your smile is less-than-perfectly aligned and you'd like to learn more about straightening your smile with Invisalign clear braces, schedule a consultation with your Sheridan dentist by contacting Grinnell Street Dental at (307) 672-7567. Located in the 82801 are, we welcome patients from Sheridan, WY and all surrounding communities.