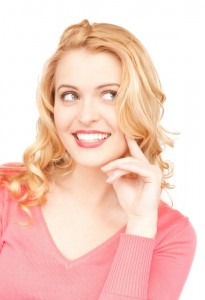 Look in the mirror. What do you see? Without being too hard on yourself, there are probably some things about your appearance that you wish you could change. Some are unrealistic. It's important to recognize that not a single one of us is perfect. That said, your smile has obvious importance when it comes to making good impressions on others and succeeding in life. If someone grins at you, and you respond with a closed mouth look, they're sure to think you're unpleasant, snobby, or angry. The truth is, if someone avoids smiling, it's very possible that they're mortified over the way their teeth appear when they smile. If your hand covers your mouth when cameras come out, you should think about coming in to see Sheridan cosmetic dentist, Dr. Donald Coon for a cosmetic consultation.
Common Cosmetic Dental Treatments
Cosmetic dentistry is defined as any dental treatment which is meant to improve the appearance of your teeth, gums, and general smile. Dr. Coon greatly understands the value of a beautiful, beaming smile. For this reason, he is happy to offer a number of cosmetic options to patients. Some of the cosmetic dental procedures most often requested include:
Metal-Free Restorations
Bridges
Dental Implants
Dental Bonding
Porcelain Dental Veneers
Teeth Whitening
Multiple Procedures?
If you have severe smile flaws which draw your eye in when you look in the mirror, chances are other people notice them as well. It's possible that your dental issues aren't merely aesthetic, however. You could have a higher risk for other dental issues due to crooked, overlapping, chipped, or cracked teeth. Your teeth may look better and end up healthier than ever once you opt for cosmetic dental procedures. If you are dealing with multiple smile issues, a complete smile makeover is like ordering several things off of an a la carte menu. Dr. Coon can help design a cosmetic and restorative plan tailor made for your particular needs.
Visit your Sheridan Cosmetic Dentist
To find out which restorative or cosmetic dental procedure you'd benefit from most, contact Grinnell Street Dental, located in Sheridan, Wyoming, at (307) 672-7567 or visit us online at smilesbydrcoon.com.