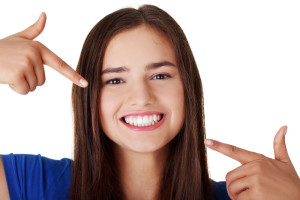 White smiles are nothing new. Many people are meticulous with maintaining a brighter grin. Others don't realize the need for whitening until they see a picture of themselves and find their teeth appear much duller than they'd realized. Is this you? The American lifestyle isn't kind to teeth.  Wine, coffee, soda, berries, tobacco, and plain old time will lead to a less-than-bright grin. Whitening options for teeth are plentiful, but if you do decide to whiten your teeth, Sheridan dentist Dr. Donald Coon wants to make sure you don't take things out of hand.
Younger Looking Teeth
Do you ever find yourself noticing the teeth of your favorite celebrities when you watch television, movies, or thumb through a magazine? White teeth are a common part of the Hollywood beauty routine.  There's a good reason for this. Yellowing and stains on teeth make you look older. Once you see yourself with a bright, white smile, you're likely to agree that this is the way you were born to look. However, self-perception can become difficult to harness. Don't let your vanity become your enemy. When it comes to bleaching teeth, there is too much of a good thing.
Going Overboard
Whitening too often might actually give you the complete opposite of what you're hoping for. When teeth are over-bleached, they start to appear almost translucent, or possibly grey. Whitening under the tutelage of an experienced dentist will yield safe results, but taking whitening into your own hands puts you at risk for teeth sensitivity. Long term damage can occur from prolonged exposure to bleaching chemicals. To ensure good and safe results, consult with Dr. Coon when considering exposing your smile to teeth whitening. This way, you'll know that your teeth and gums are healthy enough to withstand the chemicals, and you'll remain on a schedule which is dentist recommended and healthy for maintaining your bright, white smile.
Teeth Whitening from Sheridan Dentist
To find out which restorative or cosmetic dental procedure you'd benefit from most, contact Grinnell Street Dental, located in Sheridan, Wyoming, at (307) 672-7567 or visit us online at smilesbydrcoon.com.