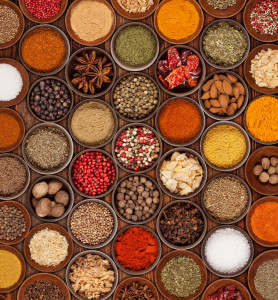 Do you enjoy adding herbs and spices to your meals for additional flavor? A spicy kick of cayenne or an exotic undertone of curry can amp up the taste of your food without adding fat and sodium. The honing of the medicinal qualities of natural seasonings dates back to ancient times. Many herbs and spices exhibit high concentrations of minerals, vitamins, and antioxidants. Spices can reduce inflammation from periodontal disease, which relates to your overall health. Sheridan dentist, Dr. Donald Coon, wants you to take care of your teeth and your overall health, so consider spicing up your life.
A Sprinkle of Paprika for Oral-Systemic Health
Oral-systemic health describes the relationship between your dental and overall health. Regardless of the full scope of any given disease, there are a variety of eastern and western treatments that can certainly help, if not completely cure a given ailment. Experimenting with natural remedies in addition to listening to your dentist and general physician is the best way to cast a wide net for better health. While you're at it, why not add a bit of paprika to your poultry, pork, or pumpkin soup. This red, smoky spice can increase fat burning by ramping up your metabolism. Found in a red powder form at most grocery stores, paprika has anti-inflammatory and antioxidant compounds which can potentially lower your oral/pharyngeal and other cancers.
Cinnamon and Ginger
Cinnamon is a perennial pantry staple with over 100 varieties. Baked into pies, muffins, and cookies or sprinkled on top of your morning coffee, cinnamon noticeably reduced the blood sugar in diabetics and reduced cholesterol in one research study. Ginger is also a versatile spice, whether fresh (in root form) or powdered. Many pregnant women swear by ginger to quell morning sickness. Ginger thins your blood (similar to aspirin) which reduces pain and lowers the risk of blood clots. A high source of potassium, ginger is known to lower blood pressure. A teaspoon of this tasty spicy root is equivalent in antioxidant levels to a whole cup of spinach.
Schedule a Visit with your Sheridan WY Cosmetic Dentist
Contact Dr. Coon by calling Grinnell Street Dental at (307) 672-7567. Located in the 82801 area, we welcome patients from Sheridan, WY, and all surrounding communities.