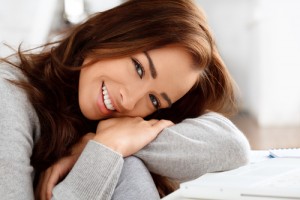 Is the potential embarrassment of wearing wires and brackets keeping you from pursuing your dream of straighter teeth? If so, you may be interested to learn that there is a method of teeth straightening that does away with wires and brackets altogether. To learn more about these wireless clear braces, read below as your Sheridan WY dentist, Dr. Coon, discusses three of their many benefits.
Advantages of Clear Braces
Improved self-confidence. When it comes to clear braces, your smile is on display rather than metal work. Clear braces utilize a series of clear aligners, each with an alignment slightly closer to the ideal. These aligners are worn throughout the day, but are very discrete. Instead of showing off wires and brackets, they let the teeth shine through, and because of their discretion, patients often report feeling improved self-confidence rather than the drop in self-esteem that sometimes comes from wearing standard braces.
Easier homecare. In addition to being clear, the aligners are also removable, making homecare and mealtimes far simpler. Rather than navigating a thicket of metal work, patients wearing clear braces can simply remove their aligners to brush and floss. In addition, the removability of the aligners means that patients have no limits on the foods they choose to eat, and they don't have to worry about the potential embarrassment of wearing their lunches in their braces.
Fewer dental visits. Because clear braces use a series of the aligners, they eliminate the need for adjustments. Rather than attending dental visits to have braces tightened and adjusted, patients simply progress to the next aligner in the series after a specified number of days. The result is a system that integrates more smoothly into patients' day-to-day lives, leaving them free to enjoy themselves while working toward straighter teeth.
Schedule a Visit with Your Sheridan WY Dentist
Are you interested in clear braces? Contact your Sheridan WY cosmetic dentist, Dr. Coon, today by calling Grinnell Street Dental at (307) 672-7567. Located in the 82801 area, we welcome patients from Sheridan, WY, and all surrounding communities.