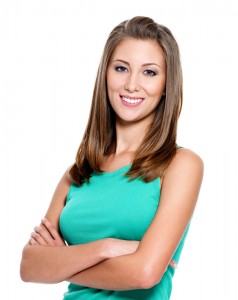 The obvious effects of crooked teeth can significantly diminish your confidence, but if your goal is to improve your smile, then metal braces may not seem very appealing. Nevertheless, straightening your teeth is important for more reasons than just your cosmetic sensibilities; crooked teeth can also inhibit your mouth's proper function and facilitate poor dental health. Luckily, you don't have to temporarily sacrifice your confidence even further just to have a straighter smile. With Invisalign clear braces from your Sheridan dentists, you can enjoy the benefits of straightening your teeth without the conspicuousness of traditional metal braces.
A New Approach to Adult Orthodontics
Your teeth can grow crooked for a number of reasons, and straightening them means forcibly moving crooked teeth into their desired, more effective positions. Traditionally, metal braces can accomplish this movement by applying tension through wires that connect to brackets on your teeth. While highly effective, the apparatus may leave much to be desired for image-conscious older teens and adults. With impressive innovation, Invisalign clear braces redesign the approach to straightening teeth by eschewing brackets and wires, instead using a series of aligners that gently force your teeth into position following a doctor-prescribed schedule of movements.
Effective AND Convenient!
The innovative design of Invisalign clear braces allows for quicker, more convenient, and more discrete treatment than their metal counterparts. The aligners are custom-designed from clear acrylic, making them virtually invisible when in place. Since the aligners are removable, you can simply take them out to enjoy a meal, brush your teeth, or attend an important social function with confidence. If used as directed, you can enjoy a straighter, happier, and healthier smile in as little as 12-18 months.
Learn More About Invisalign Clear Braces from Your Sheridan Dentists
If your teeth are crooked, but you feel a bit apprehensive about wearing metal braces, then find out more about how Invisalign clear braces can help you. You can schedule a consultation with your Sheridan dentists by contacting Grinnell Street Dental at (307) 672-7567. Located in the 82801 are, we welcome patients from Sheridan, WY and all surrounding communities.