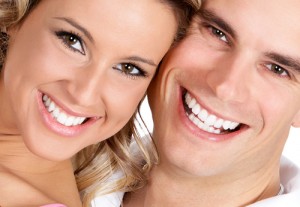 A beautiful smile can light up a room because it is, well, bright. Thus, if you see yellow or dull teeth when you look in the mirror, chances are that you don't feel your smile is capable of lighting up a room. Thankfully, cosmetic dentistry has developed teeth whitening treatment, which can remove stains and lighten teeth several shades. But did you know that teeth whitening is ineffective against a certain type of stain that discolors teeth? Read below as your Sheridan dentist, Dr. Coon, takes a closer look at teeth stains and shares the solution to stains that cannot be lifted with professional whitening treatment.
Intrinsic vs. Extrinsic Stains
Both intrinsic and extrinsic stains can discolor teeth, but professional teeth whitening only works to remove extrinsic stains. The reason has to do with the location of the stains. Intrinsic stains exist inside teeth, where the whitening agents cannot reach them, while extrinsic stains occur on the outside of teeth, where whitening treatment can remove them. Intrinsic stains are often the result of overexposure to fluoride, trauma, and certain medications. Extrinsic stains, on the other hand, typically stem from overexposure to dark pigments like those found in coffee, soda, red wine, blueberries, and tea.
The Solution to Intrinsic Stains
If your teeth have intrinsic stains, you still deserve a beautiful smile, and with porcelain veneers from your Sheridan cosmetic dentist, Dr. Coon, a beautiful smile is certainly possible. Because intrinsic stains cannot be lifted with a whitening agent, porcelain veneers are a great solution because they hide the stains. Veneers are thin shells of porcelain that adhere to the front surface of teeth, presenting a new and unstained surface that creates a dazzling smile. Porcelain veneers are also very durable and stain resistant, making them a lasting solution.
Schedule a Visit with Your Sheridan Cosmetic Dentist
Do you hide your yellow teeth behind a grin? It's time to trade in your grin for a beautiful, full smile. Contact your Sheridan cosmetic dentist, Dr. Coon, today by calling Grinnell Street Dental at (307) 672-7567. Located in the 82801 area, we welcome patients from Sheridan, WY, and all surrounding communities.