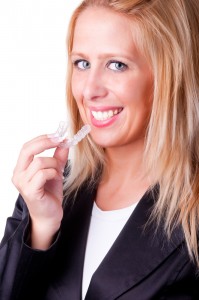 How would you like a straighter smile? Many older teens and adults are dissatisfied with crooked teeth, but are hesitant to undergo traditional orthodontic treatment to correct them, which involves a network of metal braces connected by metal wire. While the aesthetic concern is understandable, the importance of straight teeth to the function of your smile should trump any potential embarrassment you may feel about wearing braces. Nevertheless, knowing that your teeth should be straight doesn't always prevent the negative effect braces can have on your social and professional confidence. Luckily, you no longer have to choose between crooked teeth and conspicuous metal braces—with Invisalign clear braces from your Sheridan dentist, Dr. Coon, you can straighten your smile without announcing your treatment to the world.
The Science Behind Invisalign Clear Braces
Traditional braces use brackets that are connected by wires to control the prescribed movement of your teeth. Some innovative orthodontic treatments utilize white brackets and wire that blend in with the color of your teeth, making them unnoticeable from a distance. Invisalign clear braces, however, eschews the philosophy of bracket-and-wire apparatuses and instead utilizes a series of clear acrylic aligners that fit snugly over your teeth. Each successive aligner gently forces your teeth a step closer towards their desired positions, and advancing your treatment simply requires changing your clear aligner.
The Advantages of Clear Aligners
Invisalign's clear acrylic aligners are virtually undetectable, even at a close distance. If you have a social engagement, work function, or any other obligation that requires your smile to look its absolute best, you can temporarily remove your aligners to let your smile shine forth. Removable aligners also allow you to continue eating what you wish (reasonably), and you can brush and floss your teeth without struggling to extract food debris from between brackets and wires.
Clear Braces and More at Your Sheridan Dentist's Office
If your smile is less-than-perfectly aligned and you'd like to learn more about straightening your smile with Invisalign clear braces, schedule a consultation with your Sheridan dentist by contacting Grinnell Street Dental at (307) 672-7567. Located in the 82801 are, we welcome patients from Sheridan, WY and all surrounding communities.