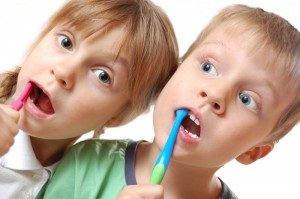 Teaching your children to brush and floss their teeth can help prepare them for a lifetime of beautiful, healthy smiles. However, if you have children, then you are probably aware that teaching them anything can be a challenge, much less a routine that they will have to continue every day for the rest of their lives. To help you increase the chances of a successfully teaching your children proper dental hygiene, Sheridan family dentist, Dr. Donald Coon, offers these tips for making the process a little more fun.
Tips for Funner Brushing and Flossing
Make it a story—For the most part, children love stories; especially those that they can take part in. Since understanding dental hygiene is an important part of practicing it, you can knock out two birds with one stone by telling the story of plaque monsters that form on your children's teeth. With toothbrush in hand, your children can play heroes as they battle these monsters for the safety of their teeth and gums.
Use a soundtrack—The American Dental Association (ADA) recommends brushing for at least two minutes per session for optimal efficiency. Unfortunately, a child's attention span does not typically last that long when left to their own devices. To help ensure a thorough brushing, play two minutes of your children's favorite song while they brush and encourage them to enjoy the moment.
Buy funner tools—A normal toothbrush can be pretty boring, and a spool of string may provide more opportunities to the minds of children then rubbing it between their teeth. Make brushing and flossing more kid-friendly by buying fun, colorful brushes, preferably decorated with your child's favorite cartoon or character. Also, substitute the traditional spool of floss with colorful, hand-held flossers. The devices are easier for children to handle and can help keep them concentrated on the task at hand.
Healthy Smiles for the Whole Family with Your Sheridan Dentist
To learn more about teaching your children good dental hygiene, schedule a consultation with your Sheridan family dentist by contacting Grinnell Street Dental at (307) 672-7567. Located in the 82801 are, we welcome patients from Sheridan, WY and all surrounding communities.