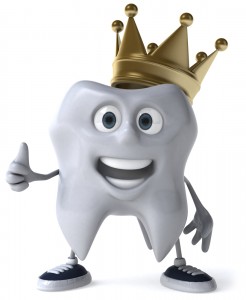 Can you imagine walking in for a dentist appointment and walking out that same day with a crown? That's not how things worked in the past. In general, dental crowns took multiple appointments for making impressions, fitting you with an uncomfortable temporary crown, sending specifications to an outside source, bringing you back in for a fitting on another day, and hopefully finalizing the crown then. All of those steps can now take place in one visit, if your dentist has embraced the latest technology. Your Sheridan dentist, Dr. Donald Coon, explains the benefits of Chairside Economical Restoration of Esthetic Ceramics (CEREC).
Why Are Dental Crowns Necessary?
Crowns are recommended by a dentist for a variety of reasons. A crown is essentially a cap that fits over the remains of a tooth that is not at full function. When a tooth needs extra protection after being weakened by decay, and a filling will not offer enough support, you will likely be a candidate for a crown. Cracked teeth with parts that need to be held together, restoration of worn down or broken teeth, and severely discolored teeth would be other reasons a patient might opt for a ceramic crown.
What is CEREC?
CEREC is an advanced technology that customizes and fabricates crowns, all while you sit comfortably in the dentist's chair. After the dentist has removed existing decay and prepared your tooth for a crown, 3-D images will be input into a computer to begin the process of making a crown designed just for you. Durable ceramic material is color matched to your existing teeth, and generated by a milling unit. Next, your dentist will cement your new CEREC crown into place. You can leave the very same appointment with a natural looking, strong restoration to your damaged tooth.
Call Your Sheridan Dentist for an Appointment
If you are interested in a one-visit crown, or any of our cosmetic or restorative dentistry services, Dr. Coon is here to help. You can schedule an appointment at our 82801 dentist office at (307) 672-7567. We are excited to provide compassionate care and dedication to patients from Sheridan, and surrounding communities.