Did you know April is National Facial Protection Month?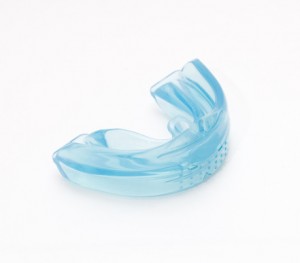 While not many of us will celebrate this occasion with hockey mask parties or full face football helmet brunches, this awareness month is meant to help athletes and parents of youth athletes protect their mouths during sports activities. Drs. Donald Coon, Justin Coon, and Cody L. Coon of Grinnell Street Dental, recommend mouth guards to prevent dental and facial injuries during sports.
Protecting your teeth during contact or collision sports is vital to your dental health. According to the National Youth Sports Safety Foundation, more than five million teeth will be knocked out during sports activities this year. In fact, as much as 40 percent of kids' injuries this year will be related to dental trauma.
How to Choose the Right Mouth Guard
The mouth guard has been in active use since the early 20th century by boxers. Today, the mouth guard has evolved into a sophisticated protection device that can save you the physical, emotional, and financial backlash that comes with knocking out a tooth. You have many options when it comes to choosing a mouth guard for yourself or your child, but each of these falls under three main categories of mouth guards.
Custom-fabricated Mouth Guards in Sheridan
These mouth guards are made in our dentist's office in Sheridan using vacuum-forming or heat-lamination techniques to fit specifically to the patient's exact occlusion. The teeth-protecting cushion offers comfortable breathing and ease with speaking because it fits securely to either the upper or lower arch. The American Academy of Pediatric Dentistry recommends this type of mouth guard for maximum retention and protection of teeth. Our Sheridan dentist offers comfortable mouth guards for sports protection as well as TMJ and bruxism treatment. 
Boil-and-bite Mouth Guards
A less expensive alternative to custom-made mouth protectors, boil-and-bite mouth guards, or mouth-formed guards, are a popular option among athletes for protecting teeth from injury. Made from a thermoplastic material, when submersed in boiling water, the heated protective gear will become moldable to the athlete's mouth.
Pre-Made Mouth Protectors
These mouth guards do not offer the same amount of protection and comfort as custom-made or thermoplastic mouth protectors; however, over-the-counter mouth guards may be a good option for children with continually changing occlusion or kids with braces. Some of these pre-fabricated mouth guards come with holes for more comfortable breathing. Make sure to always choose a mouth guard that is the correct size for your child's mouth.
If you have questions about how to help your child prevent dental injury during sports, contact our friendly Sheridan dentist office at (307)672-7567, or explore our website, smilesbydrcoon.com, fore more information.