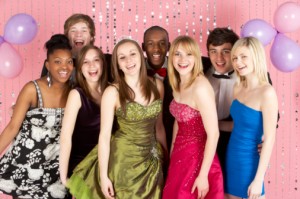 It's about that time of year. If you're in high school, you are probably trying on prom dresses, picking out a suit, and deciding what to do with your hair. Have you considered what to do about your smile? If you have smile issues, prom season is the perfect time to whiten your teeth or correct a crooked smile. At Grinnell Street Dental, we can help you smile your brightest.



Teeth Whitening in Time for Prom
If thinking about all of the pictures you will have to take before you even leave the house has you hesitant, Sheridan dentists Dr. Donald Coon, Dr. Justin Coon, and Dr. Cody L. Coon can help. Cosmetic dentistry services like teeth whitening can have you smiling brightly in front of the camera. In as little as one hour, our in-office whitening treatments can lighten your teeth up to ten shades brighter. Using peroxide, the whitening treatment penetrates the tooth, removing deep stains from coffee, sodas, and other dark drinks.
Grinnell Street Dental also offers at-home whitening kits for the convenience of whitening treatment at any time of the day. At-home whitening allows you to use the bleaching trays during your morning routine, on your way to school, or before bed. The results are a brilliant smile that goes perfectly with your prom duds.
Correct a Crooked Smile before your Special Event
Invisalign clear braces are another great way to improve your smile for prom. If you have crooked teeth or a misaligned bite, our friendly dentist office in Sheridan offers a discrete way to correct your teeth. Invisalign is a nearly invisible alternative to metal braces that gradually moves your teeth with clear plastic trays.
Since the trays are removable, Invisalign is more convenient for eating and cleaning. Additionally, if you do not want your Invisalign clear braces in your prom pictures, simply take them out for the special event and replace them before bed. However, Invisalign is so discrete, you may decide to wear your clear braces to prom anyway.
Make a Cosmetic Dentistry Appointment in Sheridan
Grinnell Street Dental offers several options for cosmetically enhancing your smile before prom or any special event. To consult our experienced team of professionals for ways to improve your smile, call our Sheridan, Wyoming dentist office at (307) 672-7567.