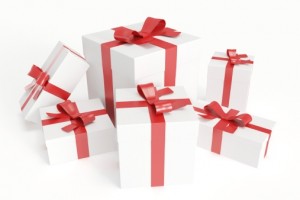 Does your gift list include a few people who have everything? Shopping for your loved ones can be stressful, especially if you are out of ideas. Dental gifts can make a great functional addition to a person's daily dental care routine. If someone on your list does not have these products yet, help him take oral health care to the next level with fun, 21st Century gadgets.
Electric Toothbrushes for Kids or Adults
If your loved one is devoted to dental health, how about a powered toothbrush? Modern electric toothbrushes have awesome cleaning power. Most come with a timer that tells you when to switch quadrants in your mouth, and they won't let you get away with lazy scrubbing. Some of the more fancy electric brushes will stay charged for up to two-weeks, which is great for folks who travel. Electric toothbrushes are also ideal for elderly people because they feature a large, easy-to-hold handle and don't require fine motor skills required to scrub teeth clean. Moving bristles do all the hard work!
Water Flosser
Already have an electric toothbrush? Consider a water flosser for efficient, effective, easy flossing. Research shows that water pressure flossing can be 90% more effective than traditional flossing. These devices have a dial that allows you to control the PSI. A water flosser can be a real treat for people with braces or gum disease.
Professional Whitening
A professional teeth whitening session makes a great gift. Grinnell Street Dental offers both in-office and at-home whitening solutions. Professional whitening can quickly erase  years of built up stains to reveal a more youthful, vibrant smile.
Toothpaste
Add a travel-size tube of toothpaste, or just a new flavor, to the stockings this year. Make sure to get a fluoridated paste because adults need topical fluoride to strengthen enamel.
Mouthwash
Why not add a few travel-size bottles of mouthwash to their stocking this season? Mouthwash is a toiletry often left at home during travels, but it can significantly reduce harmful bacteria in the mouth at home or on the road. Not only does mouthwash kill germs that cause bad breath (halitosis), but most antiseptic mouthwashes also kill germs that cause gingivitis and plaque.
Flossers
Handheld, pre-strung flossers provide an easy flossing experience that efficiently removes plaque and tartar from between teeth. Flossers make it easy to make flossing a daily habit.
Talk with a dentist today at Grinnell Street Dental. Call our Sheridan, Wyoming dentist office at (307) 672-7567 to schedule your routine cleanings and checkups or to talk about the latest dental gadgets. We serve Sheridan, Ranchester, Dayton, Parkman, Big Horn, and Story, Wyoming.