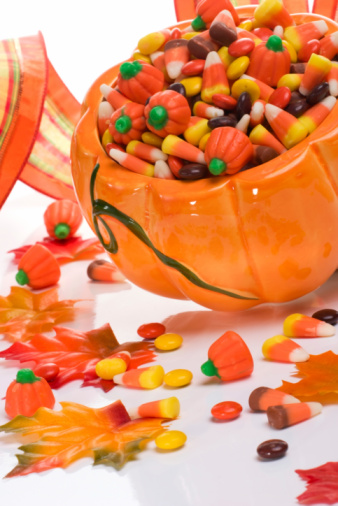 It's October, and that means empty parking lots become pumpkin patches and crazy costumes become fashionable. This spooky holiday can be fun for everyone, but your smile may feel differently.
Why are your teeth afraid of Halloween? Because stores stock up on candy.
The average person eats about 24 pounds of candy each year.
Americans spend about $2 billion on Halloween candy each year.
The average household spends about $20 on candy each Halloween.
Americans eat about 20 million pounds of candy corn each year.
Candy corn is the preferred candy of the season, followed by Snickers, Reese's, Kit Kat, and M&M's.
The sugar from candy can stick to your teeth. Bacteria in your mouth live off the sugar to create acids that can harm your teeth. Without proper oral care, the acids contribute to tooth decay, gum disease, and other dental problems.
So how can you protect your mouth from the candy craze? Try giving out small bags of nut mixes, pretzels, animal crackers, or non-candy treats like stickers. In addition, there are other spooky snacks you can make that are healthy for your smile and your waistline.
Add an almond or piece of a fruit or vegetable to the end of a carrot or string cheese. This will create a fingernail to make healthy, freaky fingers.
Use nuts or raisins to build a face on a banana or hard-boiled egg, creating a ghost look-a-like.
Cut sandwiches into festive shapes using Halloween cookie cutters.
After carving your pumpkins, bake or roast the pumpkin seeds for a delicious snack.
Protect your teeth from decay all year long by limiting your candy consumption. Dr. Coon wants to encourage healthy eating habits this Halloween season. Contact Grinnell Street Dental at 307-672-7567 to schedule your dental appointment in Sheridan, WY.