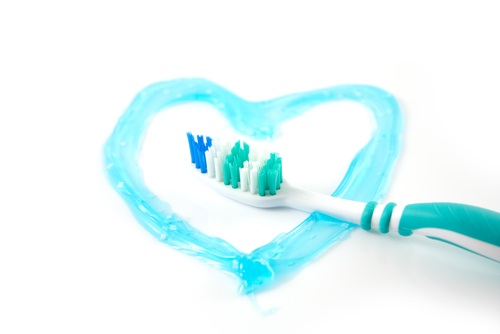 Your best bet for keeping your mouth healthy between dental appointments is by having a thorough at-home dental hygiene habit that you stick to. Brushing and flossing are the cornerstones of dental hygiene. To begin, you need to use quality toothpaste.
The exact composition of different toothpastes may vary slightly, but, in general, toothpastes should include:
Gentle abrasives (magnesium carbonate, dehydrated silica gels, calcium carbonate, hydrated aluminum oxides, phosphate salts) to remove plaque from your teeth
Substances that keep the toothpaste from drying out (glycerol, sorbitol, or other "humectants")
Thickeners to give the toothpaste a homogenous appearance and texture (seaweed, mineral colloids, synthetic cellulose, natural gum)
Flavoring agents that do not cause tooth decay (saccharine, for example)
Detergents to make the toothpaste foamy (sodium lauryl sarcosinate)
It is extremely important to use a toothpaste containing fluoride to keep your tooth enamel strong and to protect your teeth from decay.
Picking the perfect toothpaste out of the hundreds available at the drug store can be daunting. Luckily, there's a "cheat" to help you out. Just look for the American Dental Association seal of approval. This symbol indicates that the manufacturer has participated in a voluntary testing program conducted by the ADA to gauge the product's safety and effectiveness. If you see the seal on the box of toothpaste, you know that it's safe and will do what it claims to do.
For more information about good oral hygiene or to schedule a dental exam and cleaning appointment, call Grinnell St. Dental in Sheridan, Wyoming, at (307) 672-7567.