You may need more than just a filling or crown to reinvigorate your smile. With full mouth rehabilitation, our dentists can repair extensive damage to teeth and gums and improve your oral health. Full mouth rehabilitation involves restoring the teeth, bite, gums, jawbone, jaw joints, and muscles to optimal health and function.
Using computerized technology and an artistic eye, your dentist will generate a personalized plan to address your oral health problems. After a complete evaluation, Dr. Coon will recommend the most effective full mouth rehabilitation for your specific case. The amount of time and number of procedures required will depend upon the doctor's findings. When Dr. Coon explains your situation and treatment options, please ask questions. The more you know about your options, the wiser decisions you can make.
Dental implants can replace missing teeth, CEREC crowns can strengthen an injured tooth, and TMJ treatment can relieve discomfort.
We want our patients to look and feel their best. Often, full mouth rehabilitation can solve problems such as tooth sensitivity, sore jaw muscles, and recurring headaches. Restoring harmony to your mouth will give you renewed confidence and better dental and overall health.
Full Rehabilitation Gallery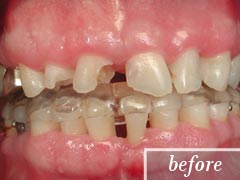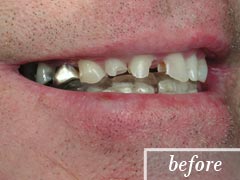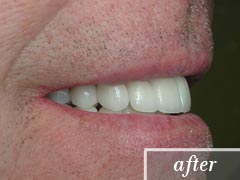 Do You Need Full-Mouth Rehabilitation?
If your smile has been through a lot, including tooth loss, then you may be a good candidate for full-mouth rehabilitation. To learn more, schedule a consultation with one of our experts by calling Grinnell Street Dental at (307) 672-7567. Located in Sheridan, WY, we also proudly serve the residents of Gillette, Billings, Miles City, and all surrounding communities.