When you lose even one tooth, your smile and oral health can suffer. You may experience dietary restrictions, speaking difficulties, and jaw bone degeneration. People who do not replace missing teeth are also at higher risk for losing more teeth in the next four to eight years. Dental implants restore missing teeth, as well as health and vitality to a person's smile. They can significantly improve quality of life.
Designed to provide replacement teeth that look, feel, and function like natural teeth, dental implants are made up of two parts. A small titanium post that Dr. Donald Coon positions into the jawbone holds a replacement tooth (or teeth) in place. The implant posts serve as artificial tooth roots for the prosthetic crowns (or bridge, partial, or denture) your dentist will place once your mouth has healed. During the healing process, which takes three to six months, jawbone naturally fuses to the biocompatible implant, creating a solid foundation for your new tooth or teeth.
With dental implants, patients rediscover the comfort and confidence to eat, speak, laugh, and enjoy life. In addition to restoring natural health, function, and beauty to your smile, implants preserve facial structure, preventing the bone deterioration that occurs when teeth are missing and providing underlying support for a more youthful facial appearance.
If you believe your dental condition may require
full-mouth reconstruction, learn more here.
Dental Implant Gallery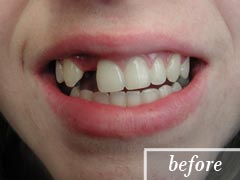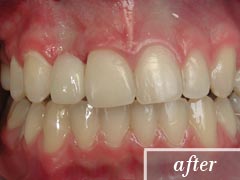 Do You Qualify for Dental Implants?
Find out if you qualify for dental implants and their lifelong benefits by scheduling an appointment with one of our experts. Call Grinnell Street Dental at (307) 672-7567. Located in Sheridan, WY, we also proudly serve the residents of Gillette, Billings, Miles City, and all surrounding communities.