Missing teeth not only impact your appearance, but they also compromise your dental health. Without a complete smile, you might experience uneven tooth wear, dietary limitations, and difficulty speaking. Dr. Coon may recommend restoring your smile with a dental bridge.
When we replace teeth with bridgework, one natural tooth on either side of the row of missing teeth will be crowned. These abutment crowns permanently secure the bridge. Placement of a bridge generally takes two appointments, one for preparation, including creation of impressions, and the other for final positioning.
Custom crown and bridgework is fabricated with high quality materials, such as semiprecious or precious metals, porcelain, or a fused combination of the two. When selecting the material most suitable for your mouth, Dr. Coon will consider aesthetics, function, and tissue compatibility. After receiving a bridge, patients can eat the foods they love, smile confidently, and know that they've done the best thing for their oral health.
Did you know that a bridge can be secured by implants instead of crowns?
Dental Bridges Gallery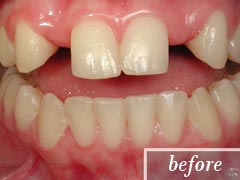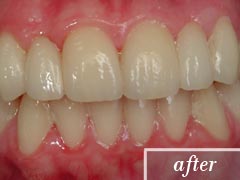 Is a Dental Bridge Your Best Option?
If you've lost one or more teeth, then ask your dentist if a dental bridge is the best option for restoring your smile. To schedule a consultation, call Grinnell Street Dental at (307) 672-7567. Located in Sheridan, WY, we also proudly serve the residents of Gillette, Billings, Miles City, and all surrounding communities.